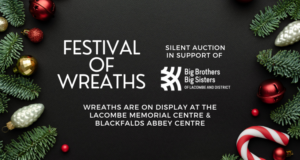 The Festival of Wreaths is in support of Big Brothers Big Sisters of Lacombe and District mentoring programs. This is our 13th annual year running this auction which will be live from November 23rd at 1:00pm to December 15th at 1:00pm. The wreaths are the hard work of our local businesses and organizations who choose the story and inspiration each year which is explained in each wreaths description. The wreaths are on display at both the Lacombe Memorial Centre and Abbey Centre.
We want to thank you for supporting the auction this year.  With 100% of the proceeds going back into mentoring we cannot wait to share with you more of the impacts of our local mentoring programs such as in-school mentoring, teen mentoring, Kids & Kops summer day camp, group mentoring, and community-based mentoring. In 2023, Big Brothers Big Sisters has been able to support more than 400 mentoring relationships and we could not do it without the support of people like you.
IMPORTANT NOTES:
– All auction winners will be contacted by the agency after the auction closes.
– All wreaths are requested to be picked up from our office in Lacombe (5103 49 Street) by December 22nd at 1:00pm. If alternate arrangements need to be made please contact us after the auction.